Spring Topics
Literacy -                   Fire poetry and non fiction writing (instructions)
Maths -                      Number bonds for the numbers 5 and 6, 2D and 3D shape, place value for numbers up to 20, 50 and 100.
Science -                    Materials and plants
Creative Curriculum - Great Fire of London
                                  PE and games
                                  ICT
                                  RE - leaders and teachers
Autumn Topics
Literacy
Basic skills: Reading and writing a sentence. Using a capital letter, finger spaces and a full stop.
Traditional Tales: Listening to & Reading Traditional tales, describing characters and settings
Maths
Basic skills: Recognising, repeating and making patterns, patterns in the outdoor area
Measurement: Comparing lengths and measuring length
Place value: Recognising, making and ordering numbers up to 10 and then 20. Learning about 'teen' numbers and 'odd & even', estimating and counting.
Project
Mental Health: Recognising different emotions and what makes us feel them. Beginning to recognise ways that we can regulate our feelings. Learning about how are actions make other people feel.
WW1 Centenary: History, Art, Geog, Music, Drama, PSHEEd & DT
Science
Animals including humans: Our bodies and our senses
RE
Myself: Sharing what is special to me (story, people, places, objects).
Learning about Christians and what is special to them
Year 1 Spring Learning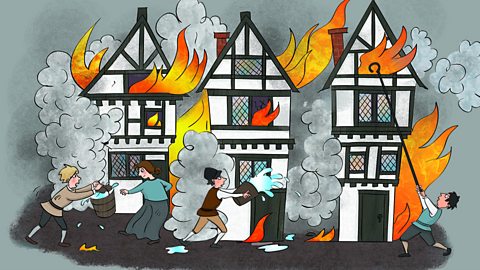 (Image courtesy of BBC School Radio)
The Digital Leaders went out to Year 1 to find out what they had all been up to since Christmas. Here is what they had to say:
What have you been learning about in school lately?
We have been learning about 'The Great Fire of London', our number bonds to 10, Tatty Ratty and trying to keep our handwriting neat while using cursive handwriting techniques.
What has been the best thing you have done since you came back?
Our favourite thing to do has been practising our handwriting and we really enjoyed our phonics.
What have you been doing in literacy and maths?
We have been learning all our number bonds to 10 and using the number houses to help with this. We have been using our Great Fire of London work to write sentences in literacy.
Is there anything else you'd like to tell us about school?
Miss Summerfield's class had an assembly and they showed everything like computing and history. We like literacy and in science we have been growing plants.
Wow Year 1, what a fun term you're having!
Year 1 Learning Autumn Term
Year 1 have settled in well and were certainly confident when speaking to our Digital Leaders. Here's what they had to say.
In maths, they have been securing their number facts and counting forwards and backwards. In writing, they have been working super hard on their phonics and practising every single day!
They have been certainly pushed in their learning and had lots of favourites to share. Science was a particular favourite where they have been learning about humans. Other top moments included P.E. where they have been using their bodies to create shapes. Of course, the age old favourite subject of lunchtime came up as well.
Some brand new things they have learnt include new tricky sounds in phonics and measuring accurately - they even measured the door!
In their Mental Health project, Year 1 have been exploring their feelings and creating art to go with it.
The Year 1 pupils were very eager to share their work about the upcoming sensory gardens they are designing and making. They shared that they may be making: poppies, tree-houses, benches, chairs, bird feeders, instruments, campfires, and swings and slides. Wow, how ambitious! We can't wait to see it Year 1.
Well done on all your hard learning Year 1, and well done to the Digital Leader team on their first upload to the school website.
(Image courtesy of Google image search)